We are happy to introduce the 2nd generation TaleaTM, a high-end tonearm for the demanding audiophile, with unique features and a sound that has been hailed as "a game changer" by some of its new owners.
Coming a year after the introduction of the first version at the 2009 RMAF, the new version includes a few changes that some of our customers have requested, such as an arm rest and a more ergonomic mechanism for VTA adjustments. But beyond these improvements, there are also more profound advances in sound reproduction, the consequence of a thorough re-examination of the materials used in the base as well as in the armwand. We are confident that the new TaleaTM pushes even further the limits of what the first model could do!
The TaleaTM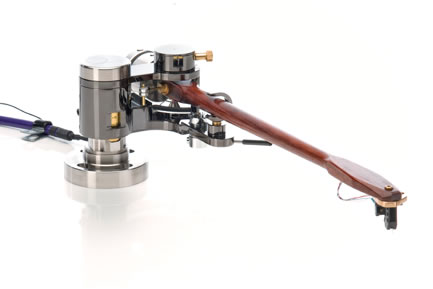 (photo

Michael Cole

© 2010)
When a musician goes to a luthier or an instrument maker to buy an instrument he/she doesn't spend too much time on the issues of engineering--although the materials and techniques used in the construction can be of the highest interest; the musician plays the instrument, and listens. He wants to know if the instrument can do what he wants it to do, if it produces the sound he wants to hear.
Choosing a tonearm involves the same process.